Summer is here accompanying a plethora of recording projects featuring the scoring of Jochen Kunstler's film, Get Your Shit Together, Zeus. As inspiration hits full force, it is critical to have the studio ready for plugging in the laptop and having at it. Balancing creative endeavors such as these along with the Little League All -Star Baseball season, cantoring lessons, yard work, fife and drum corps parades, laundry, mindfulness, cooking – even thinking about thinking about planning teaching for next September . . . – one gets the idea. When there's a moment of motivation, whether succinct or substantial, that coincides with isolation, it must be conquered as productive. Thus, the can must be ready to collect explosions of ideas, whimsically or deliberately.
A process that has worked very well for me over the years begins with the placement of several microphones around the space at various angles and distances from the performance stool. The mics are of course all different and are tracked individually and in as many as 20 to 30 combinations of stereo or mono with EQ, verb, and other FX ready to automate via nobs and sliders within an arms reach. This flexible set up was developed during preparations for surround sound fixed media compositions like "consubstantial." Eight mics recording the same sound from eight different angles and eight different settings on the DAW maximizes potential decision making during editing for moving the audio around the performance space. Even works that are eventually rendered for stereo benefit from the timbre modulations resulting from this marriage between instrument and technology.
For these GYSTZ Sessions, I will be overdubbing myself as a virtual reed quartet of A Clarinet, Alto Saxophone, Tenor Saxophone, and Bass Clarinet. I hear this one'semble as a fluctuation of sonorities from church organ to jazziness to cerebral departures from both and everything else. I will also have the percussion ready to pop in at any moment – djembes, balafon, hand drums, rattles, bells, dumbek, to name a few. No doubt, this score will utilize electronic sounds and virtual instruments created in Reason, Reaktor, Ableton, Cubase, Pro Tools, and Logic; but that bank of real instruments will form the foundation and the necessary earthliness I am hearing for this film. The psychology of Crystal, the lead character, demands a complex and developing theme interspersed with pre-recorded Gospel tracks sung by two gentlemen. There are definite dreamscape notions formulating in my mind that may call for two guest singers, young female voices as undulating echoes from these featured guttural Gospel men.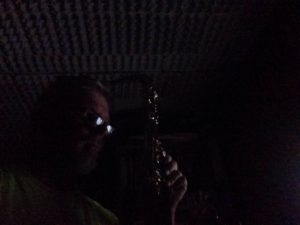 As I embark upon the work, I hear a vastness of music that just may well expand beyond the needs of this film and result in an entity of its own inspired by this cool collaboration born from the VCFA community.